Joyce Cook walks over 300,000 steps for Cure Parkinson's
On Monday 10 May, 86 year old Joyce Cook from Chorleywood crossed the finish line of her incredible 300,000 step challenge.
To mark Parkinson's Awareness Month, Joyce walked more than 10,000 steps each day for 30 days, beginning on 11 April (World Parkinson's Day), to raise vital funds and awareness of our Parkinson's research.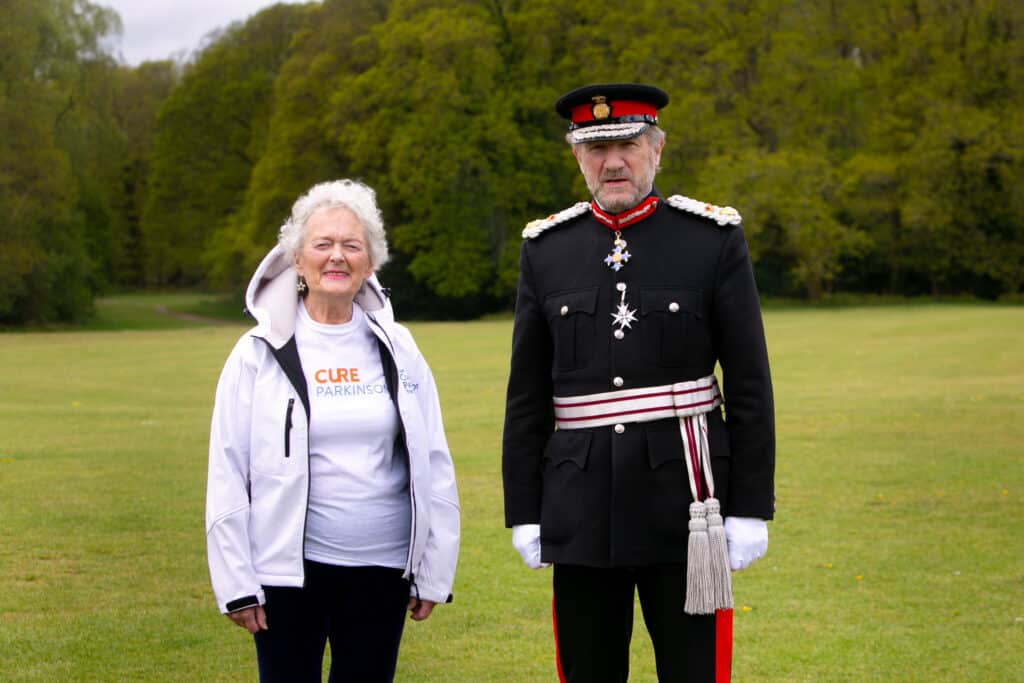 Rain clouds gave way to sunshine on Monday afternoon as Joyce walked her final stretch over Chorleywood Common to break the finish line ribbon, where she was met and congratulated on her achievement by the Lord Lieutenant of Hertfordshire, Robert Voss CBE, the Queen's representative in the county and a patron of Cure Parkinson's.
I am delighted to have completed this challenge. I love walking and being out in the fresh air, but I must admit covering this distance each day was hard and I am pretty tired now. My feet are covered in blisters! But I am so glad to have raised money to help find a cure for Parkinson's, and to have been met by the Lord Lieutenant was a real honour. Thank you so much to everyone who cheered me on and donated to Cure Parkinson's

Joyce Cook
I am hugely proud of my mum for thinking up and completing this challenge. She was laser-focused throughout her 30-day mission – 10,000 steps a day, no fewer, all for a cure – and ended up covering precisely 369,630 steps by the time she got to the finish ribbon. It was typically supportive of the Lord Lieutenant – a devoted patron of Cure Parkinson's – to greet her at the finish: after all, she had walked around much of his county in the previous month! It was wonderful for her achievement to be marked in such a special way.

Will Cook, CEO of Cure Parkinson's
All at Cure Parkinson's are incredibly grateful to Joyce for taking on this challenge, which has raised over £3,500 for our pioneering research – a phenomenal amount! Joyce's fundraising efforts are an inspiration to us all, and we have loved watching her fundraising journey.
If you're feeling inspired by Joyce's challenge and would like to raise funds for Parkinson's research, take a look at some of our upcoming challenge events.
Alternatively, if you wish to read more about Joyce's fundraising story, please visit her JustGiving page.
How helpful was this content?
/ 5. Vote count:
We are sorry that this content was not useful for you
Let us improve this content
Can you tell us how we can improve this content?