The Coast to Coast to Cure endurance cycle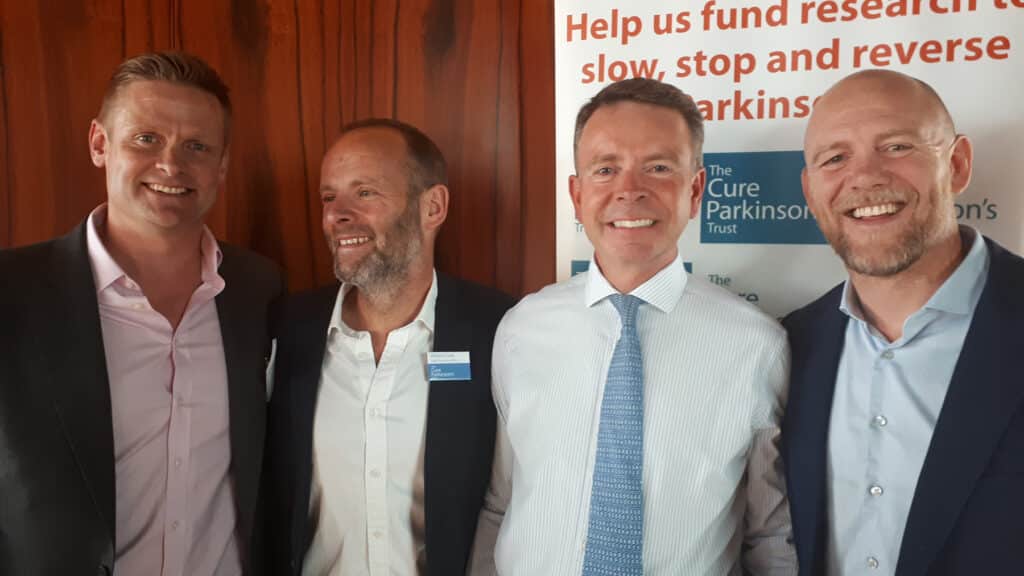 This week AEGIS London and Cure Parkinson's hosted a Q&A event with rugby legends Mike Tindall and Iain Balshaw MBE to talk about Cure Parkinson's ground-breaking research and the extreme Coast to Coast to Cure challenge.
AEGIS London recently announced Cure Parkinson's as their new charity partner, following the diagnosis of one of their members of staff, Simon Cooper. AEGIS London launched this partnership by becoming title sponsor of the Coast to Coast to Cure challenge. This brutal cycle challenge is being taken on by 11 supporters this June to raise funds for Cure Parkinson's research, and the team will be joined by patron Mike Tindall and ambassador Iain Balshaw.
At the Q&A event which was kindly hosted by MS Amlin on the 45th floor of the Leadenhall Building, nicknamed the 'Cheesegrater', Simon spoke candidly about his diagnosis and the support he has received from his colleagues at AEGIS London. The Lloyd's of London syndicate is keen to shine a spotlight on the condition and support events like the Coast to Coast to Cure challenge which will help fund breakthroughs in Parkinson's research.
Will Cook, CEO of Cure Parkinson's and part of the Coast to Coast to Cure team, delivered a presentation to guests about the influence the charity has had on the Parkinson's research arena, demonstrated by the success of our International Linked Clinical Trials (iLCT) programme. Funds raised through the Coast to Coast to Cure challenge will help us to continue investing in research, like the iLCT programme, that could change the lives of people like Simon who are living with this debilitating condition.
With the team only days away from setting off on one of the most gruelling challenges of their lives, Mike and Iain light-heartedly discussed their training preparations and the difficulties they think this challenge will bring, noting in particular the high altitude conditions the team will have to cope with. The rugby legends talked about the support they've received from their families who have embraced their commitment to taking on this extreme cycling challenge for an important cause. Having spent their professional careers playing as part of a team, the pair are looking forward to taking on this challenge with the other Cure Parkinson's cyclists and are confident their 'team spirit' will keep them all motivated and make for an enjoyable experience.
In the video below, Will explains the route of the Coast to Coast to Cure challenge. The graph illustrating the steep ascents the team will face receives an hilarious reaction from Mike Tindall!
With special thanks to title sponsor AEGIS London. Thanks to Artemis Investment Management for supporting this challenge and Associate Sponsors Bray & Krais and RFIB. Thanks also to Marmot Tours for their logistical support.
How helpful was this content?
/ 5. Vote count:
We are sorry that this content was not useful for you
Let us improve this content
Can you tell us how we can improve this content?