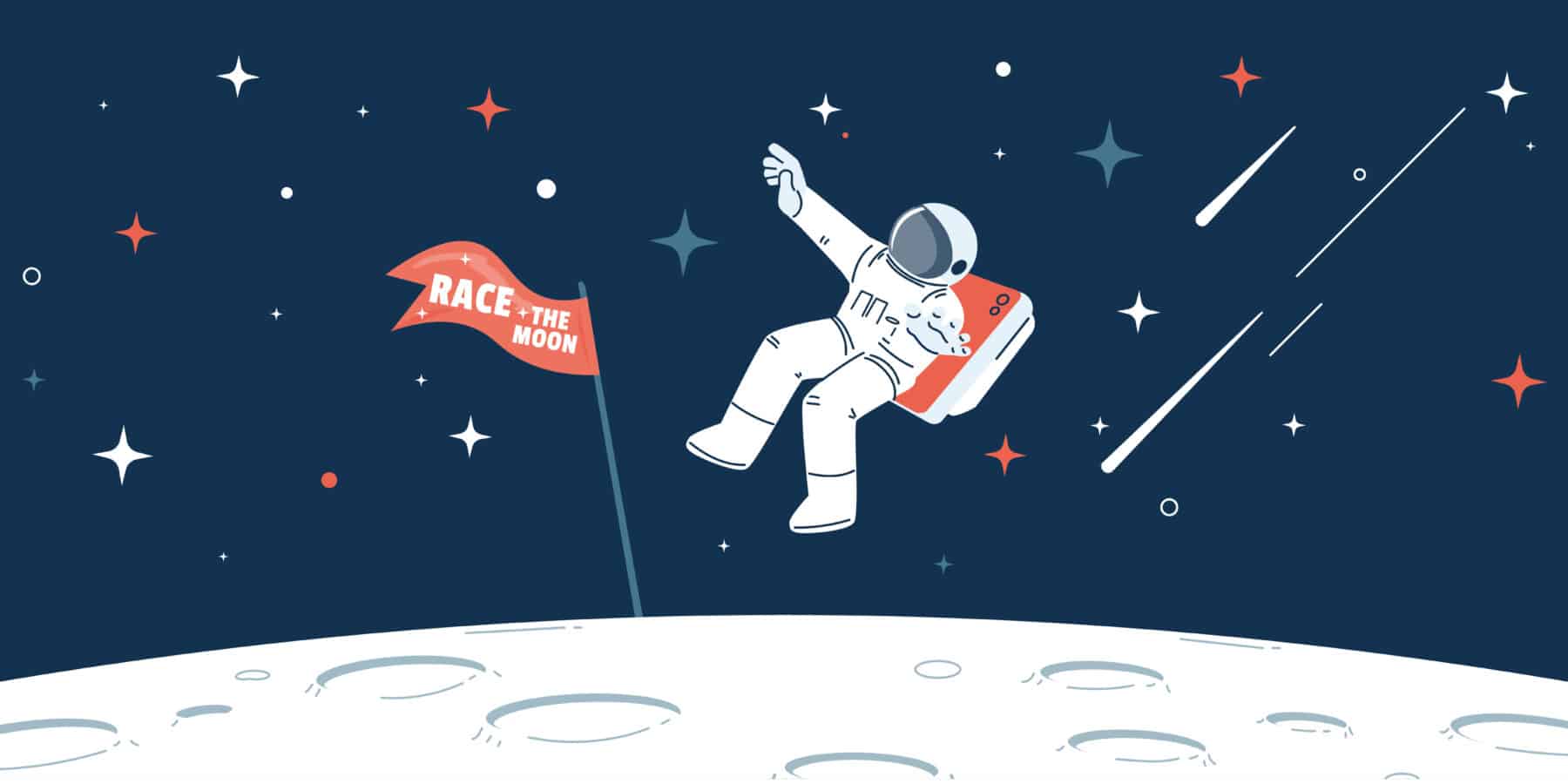 Team up with thousands of runners, riders, swimmers, wheelers and walkers to Race The Moon, and raise funds for Parkinson's research.
We are absolutely thrilled to be partnering with Sport Parkinson's and other organisations for Race The Moon – "The Challenge That's Out of This World".
This unique and exciting challenge is simple: can the global Parkinson's community collectively run, ride, swim, wheel and walk 1.5 million miles to beat the moon's orbit around the Earth, all whilst raising funds for Parkinson's research?
From the 12 April – 11 May, we're bringing together challengers of all abilities, ages, experiences and backgrounds to go the distance. The focus for Race The Moon is not on how fast, or how far you can go, but where everyone's contribution is recognised, valued and rewarded.
Are you ready to accept the #RaceTheMoon Mission?
Mission possible
To take part, you'll just need to complete as many miles as you can throughout the lunar month* of April and raise funds for (or donate to) Cure Parkinson's. Whether you commit to one mile a day or more, there are lots of ways you can get involved over the challenge, including walking, running, cycling, swimming, scootering or roller skating around your local area.
Once you have signed up on the official Race The Moon website, you can start collecting sponsorship via your dedicated Sports Giving fundraising page and begin to track your miles from 12 April on Strava.
Every mile you complete and every pound/euro/dollar you raise counts, and throughout the challenge there will be famous guest appearances, themed days and prizes to be won along the way.
*A new moon on 12 April 2021 will mark the start of the challenge which will run until the next new moon appears on 11 May.
Who can enter the mission?
Everyone is invited to be part of this (virtual) race as we all unite to #RaceTheMoon and raise as much as possible for Parkinson's research. We would love each and every one of you to be a Challenger: you will make this epic mission possible.
Our team includes people with and without Parkinson's, and extended family members and friends, regardless of geographical location or social distance.
Head to the official Race The Moon website to sign up and then start your Challenger training to ensure you are saying "mission accomplished" alongside the rest of the team on 11 May…
Challengers, are you ready to accept the mission?
Join the mission today and help us give both the Moon and Parkinson's disease a run for their money.
Please note that registration fees vary depending on the sign up option you choose and remember to select 'Cure Parkinson's as your chosen charity at the checkout.
For more information, please contact alex@cureparkinsons.org.uk or call 020 7487 3892.
Details
Date

12 April – 11 May

Cost

£0-59

Fundraising Target

£28
Sign up